Three Vision
Full Omnichannel Platform
// Desktop
// Hybrid App ( iOS-Android)
// Retail Tablet
Visit Three Store
Download My3 App
After acquiring ´O2 Telefonica´ in 2014 Three embarked in an ambitious project to unify both Telco providers into a single consistent brand. That involved merging two streams of customers (with different tariffs, plans and duplicate systems in place), the consolidation and modernization of its IT infrastructures, the operational management for over 50 third-party partners, and the digitization of Three Ireland's customer experience, supporting its consumer and enterprise customer base.
Our task at the Studio, as part of the full Digital Transformation for the company, was delivering a full Omnichannel Platform for a Customer interconnected experience.
Roles and Responsabilities
Digital Design Lead - UX/UI, Visual Design, Interaction
Client
Three Ireland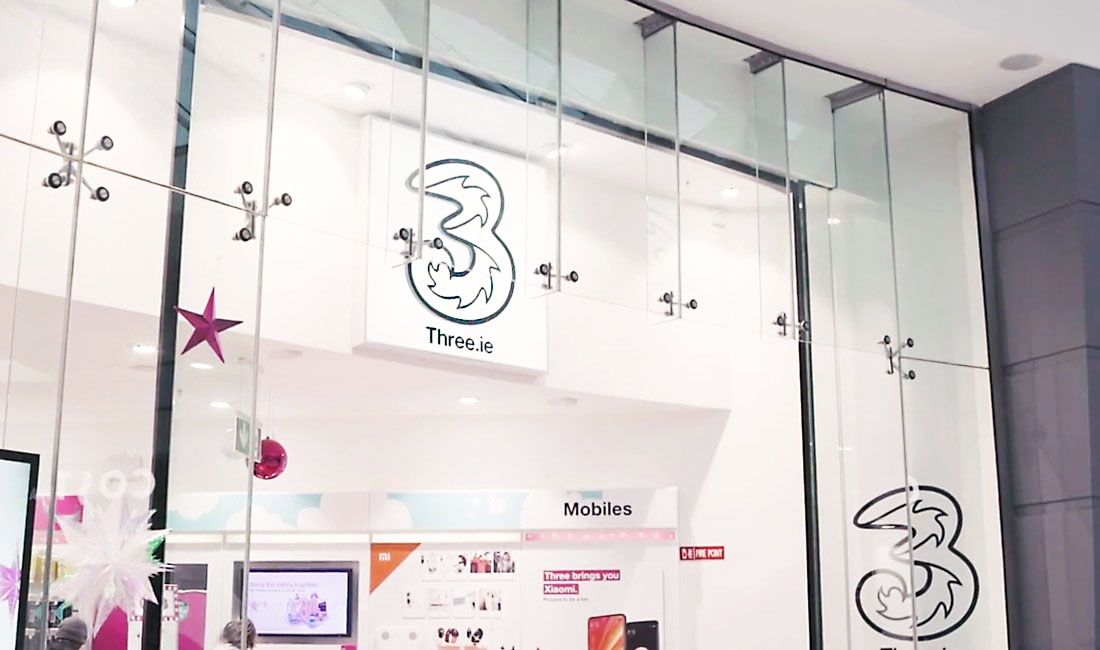 The Challenge
An Omnichannel Experience
At the beginning of 2017 everything was set in place for the project to start. I was hired as the Digital Design Lead in order to direct the team working on their vision.
The integrated system would interconnect a responsive Online Shop ( desktop responsive), a mobile application ( My3, for customer account management ) and a retail tablet platform ( store sales management), while taking into account other CRM Channels ( telephone, live chat, mail marketing).
I took care of leading the creative side of this project (UX/UI/Visual Design and Interaction) while managing the day to day activity for the brand ( Three), sub-brand ( 48Months) and products and services( 3Money, 3Plus, Sponsorship...)
The Process
Embracing Design Thinking
Both Desing Thinking and UCD ( User Centered Design) are at the core of all our work on the Studio, and that gets reflected in our process.
Due to the complexity of the project, the amount of Stakeholders and systems involved, as well as the dependencies on other parts of the business we had to adapt and iterate our ways of working thoughout the full activity.
Because of the differences between channels requirements we would for instance work on certain specific parts of the Retail journeys ( billing systems, case management, ...) for a few months, and then come back to the Desktop version to tackle some other Self Service flow.
1. Discovery
The discovery stage took place for 6 months, in which we actively participated on stakeholder workshops in order to collect key business inputs, which allowed us to create our Personas, User Flows, Customer Journeys...
Throughout the project we have joined forces with external consultancy UX teams to validate our work: Fathom (Belfast) and Each&Other (Dublin), as well as the Amdocs XDC team.
Market Research: composing a full view of the Irish Telco Market ( service providers, eco-systems and segmentation). Learning about levels of satisfaction, customer purchasing preferences.
Analytic Research: reviewing real time usage data, recognizing pain points and creating behavioral flows to identify improvements
Brand Definition: ( brand tone of voice) and UX/UI trends and design best practices
StakeholderWorkshops: collecting key business imputs through funnel activities
Retail Observations: observing various stores and collecting infos from employees and customer popup interviews
User Interviews: open interviews through framed activities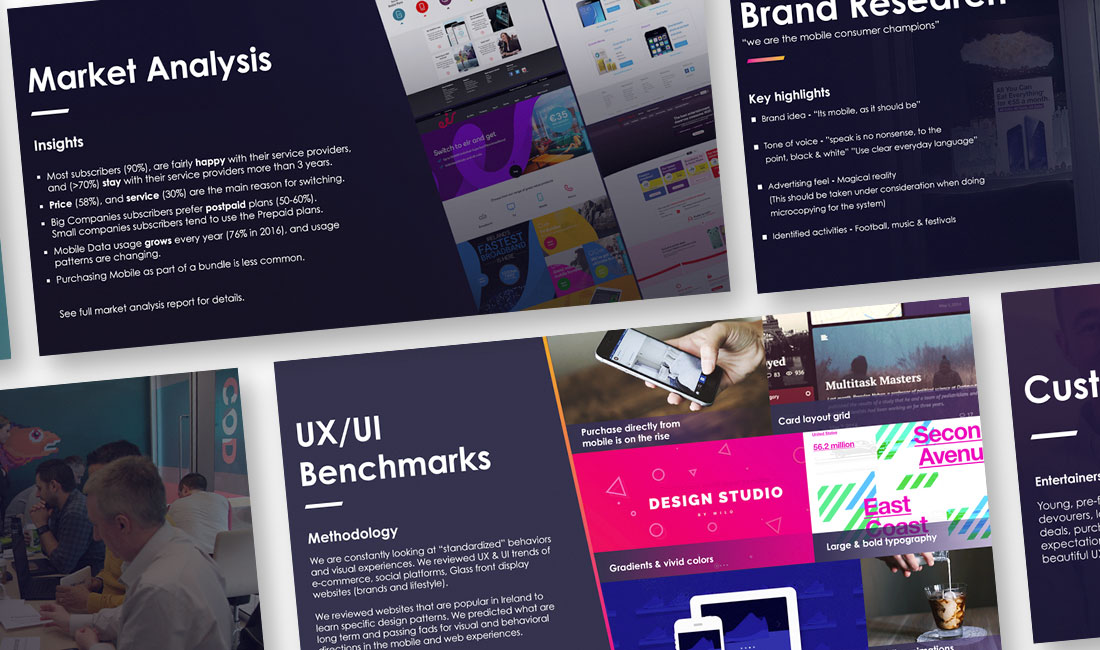 2. Definition
The definition process was extremely complex and also involved many workshops between different stakeholders from Three, along with Amdocs. We stablished our Personas and went through the Information Architecture for the different channels, before thinking on defining dozens of different Customer Journeys and User Flows depending on scenarios: if the customer was consumer or business, anonymous or registered under different legacy systems, single or multi-account, line owner or member...
3. Ideation
By now we had enough information to get started wireframing. Due to the complexity of the project we worked by stages ( PIs), creating an MVP ( minimal viable product) and working our way through the different customer journeys and features.
Pieces like implementation of external services ( payment platforms, CRM, document upload, validation) required more time to be tackled, and therefore were carried over through the different demos until the end of the project.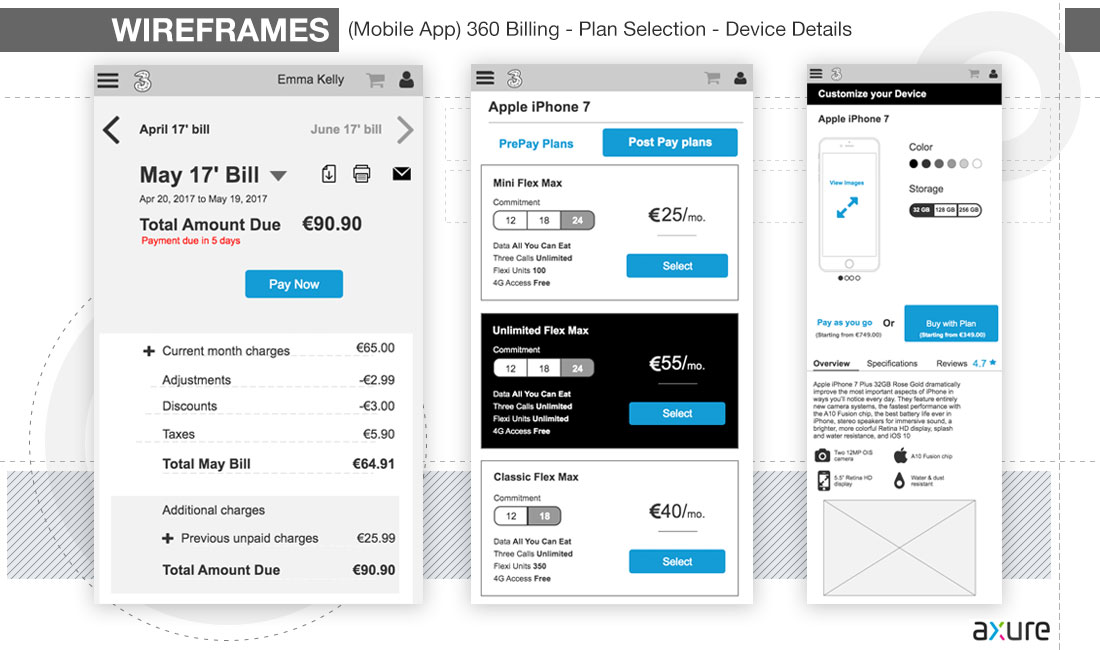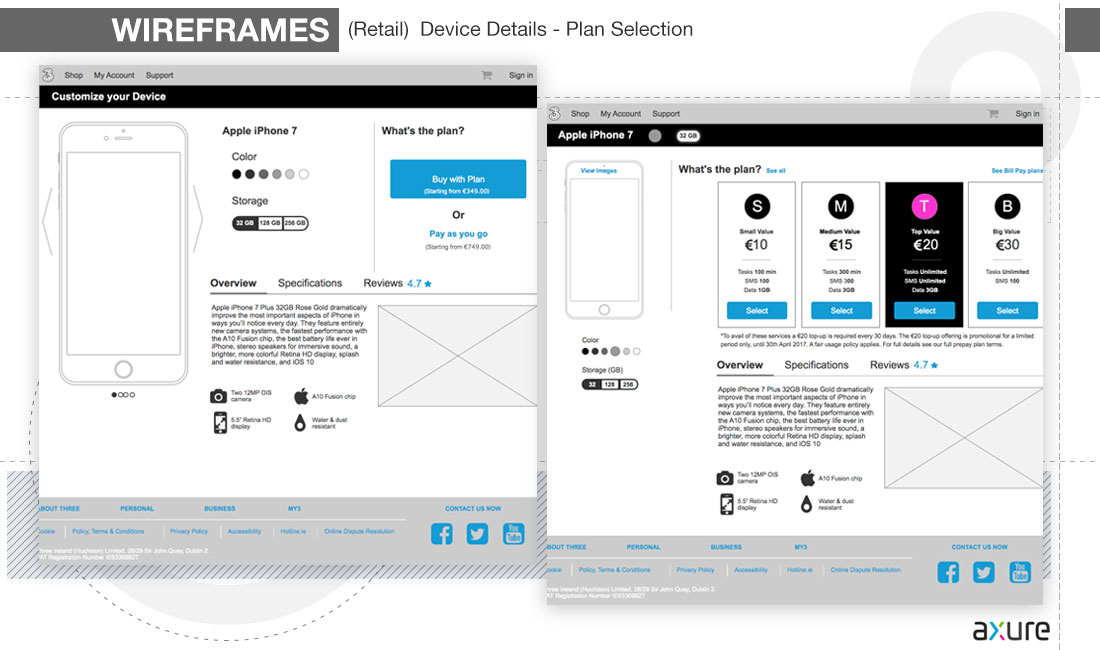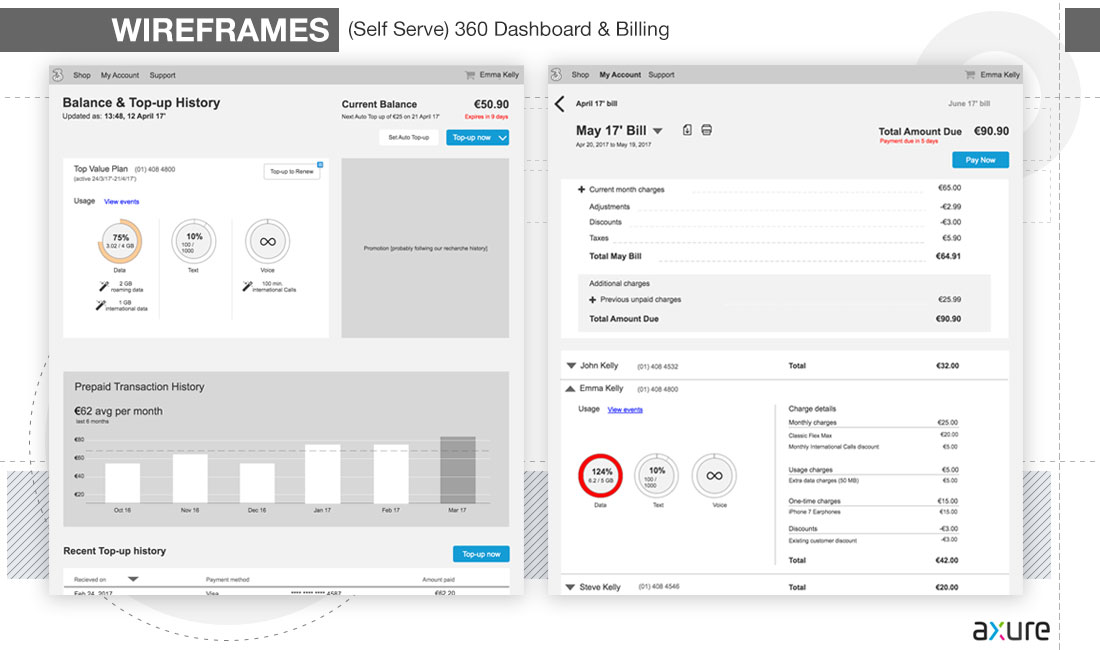 4. Design
For this project we created a full Pattern Library, based on Atomic Design, as well as modular Sketch Component libraries for quicker design iteration.
We have used Sketch for the design, InVision for Prototyping and Zeplin for Handoff to the development teams ( located overseas).
Here are a few of the deliverables by channel.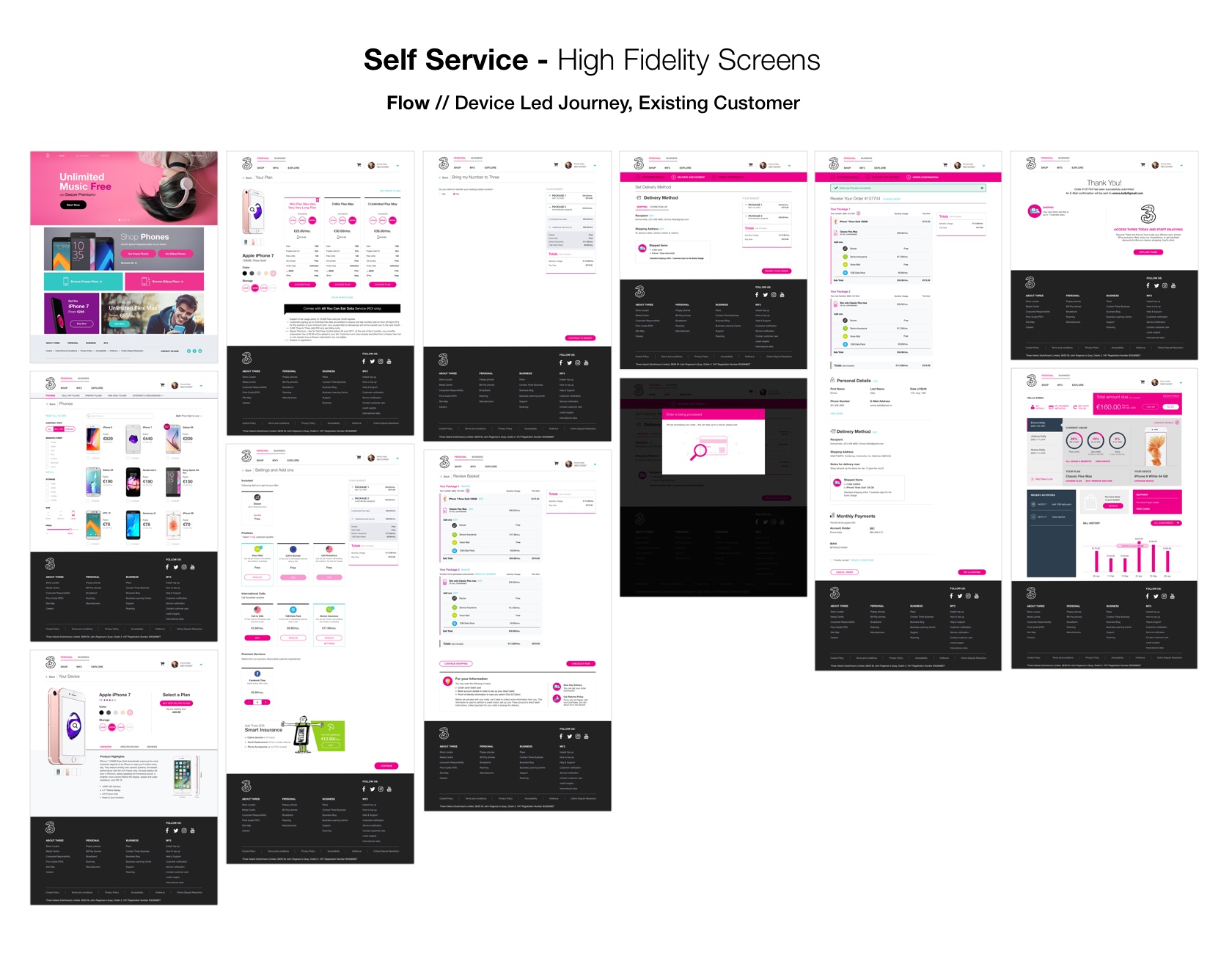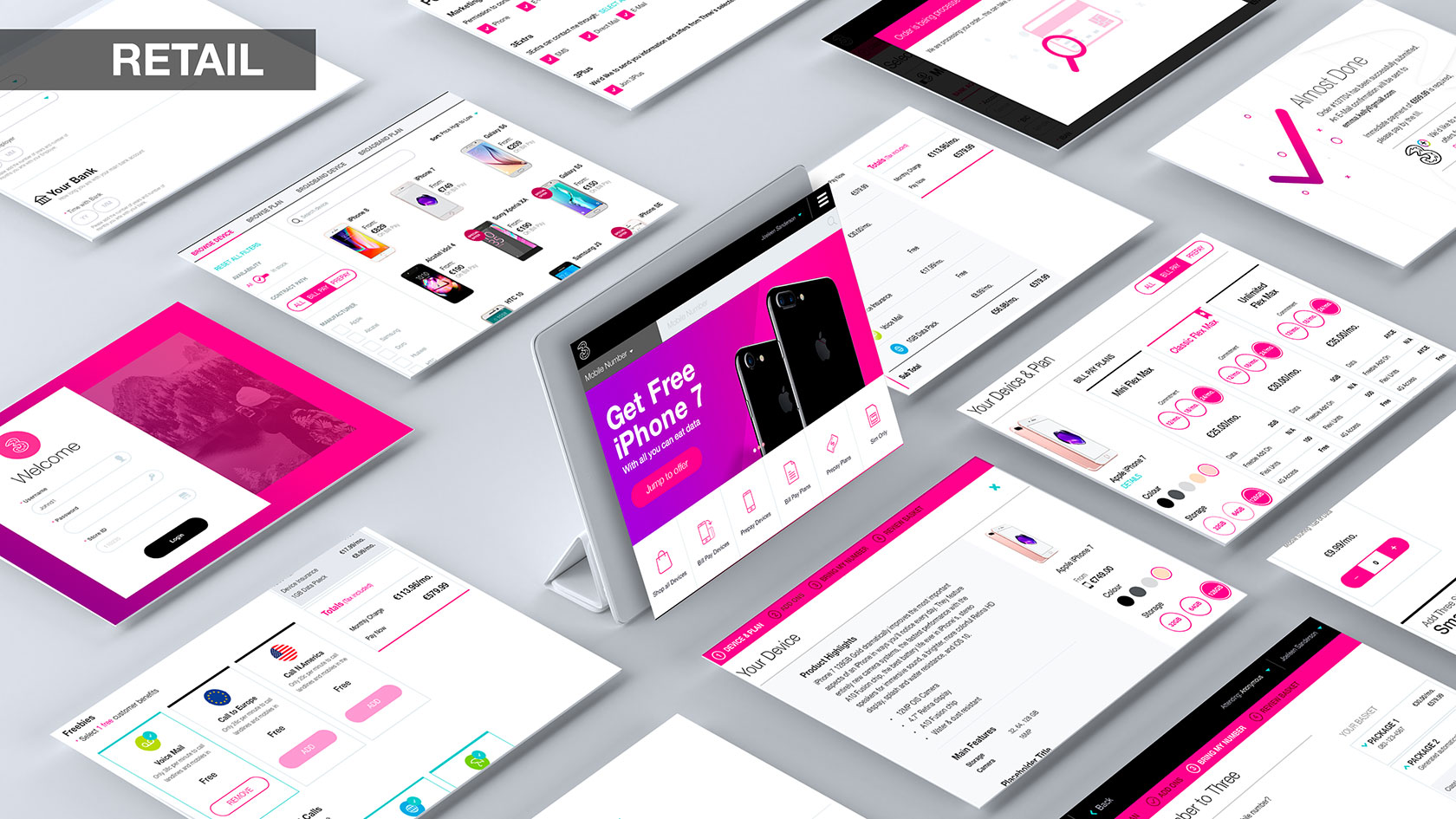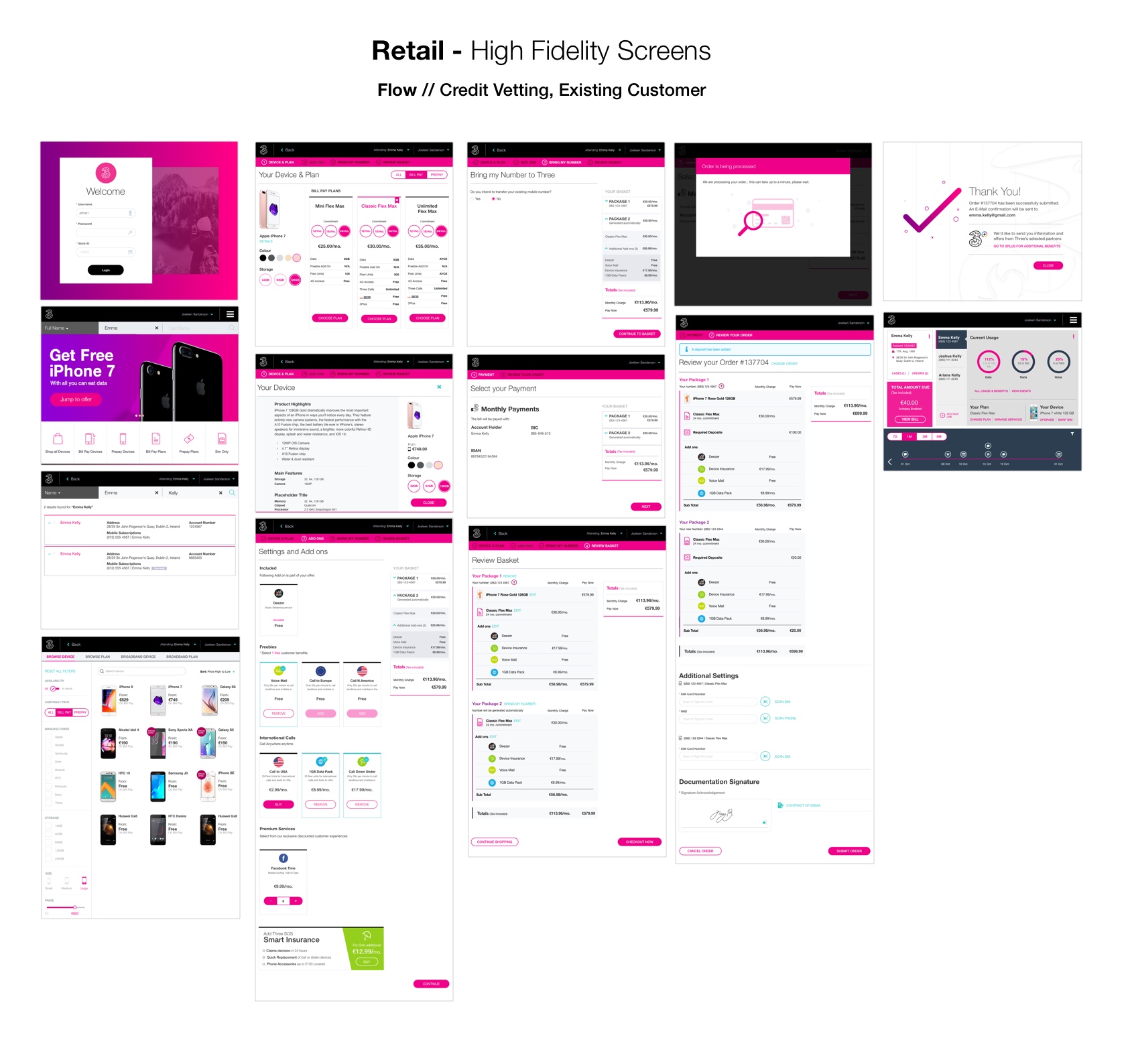 5. Prototyping
Check out one of the Mid-Fidelity Prototypes for the Mobile Application ( My3 App) Here.
6. Validation
The validation for the existing prototypes was done on several rounds though-out the project.
The Initial User testing was done by the Belfast based UX Agency Fathom (2017) : initial insights which informed general design and UX Principals. Issues were recorded and iterated.
A second round of testing was delivered using the Usertesting.com platform (2018) and was conducted by Three and Amdocs. For this we used a sample of 6 -7 users for selected end to end journeys ( 80%+ of the issues), both for desktop and mobile.
The retail testing ( non customer facing) was tested with actual staff from retail stores with no involvement on the program also on an iterative process.
We also did Testing for individual items ( Functional Changes / Visual Elements) which were included during our agile design process.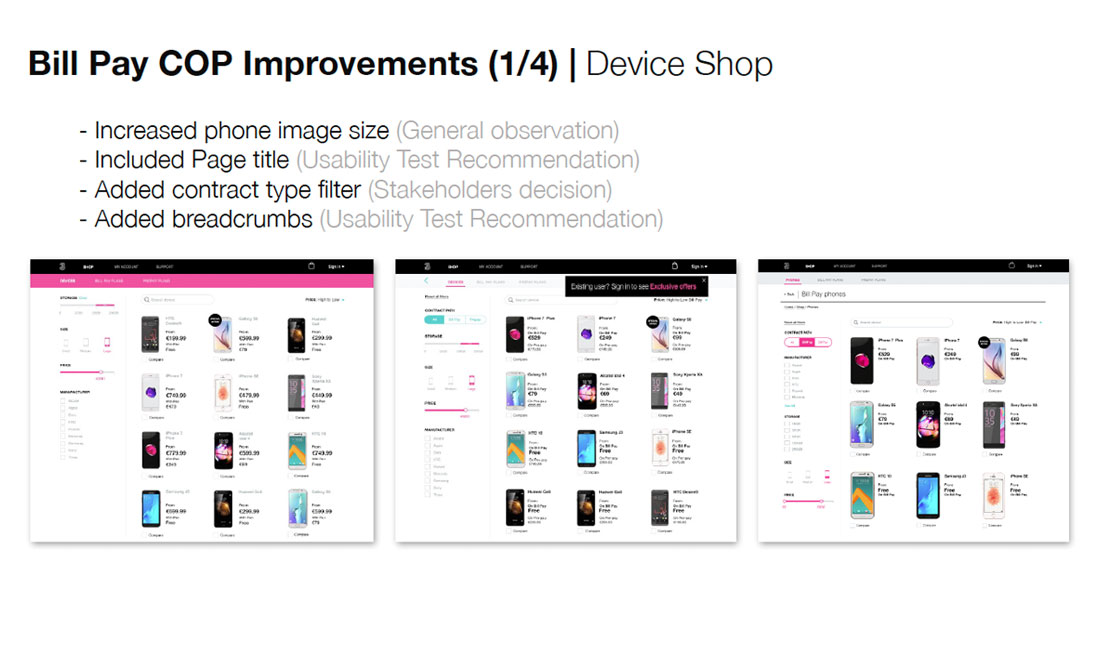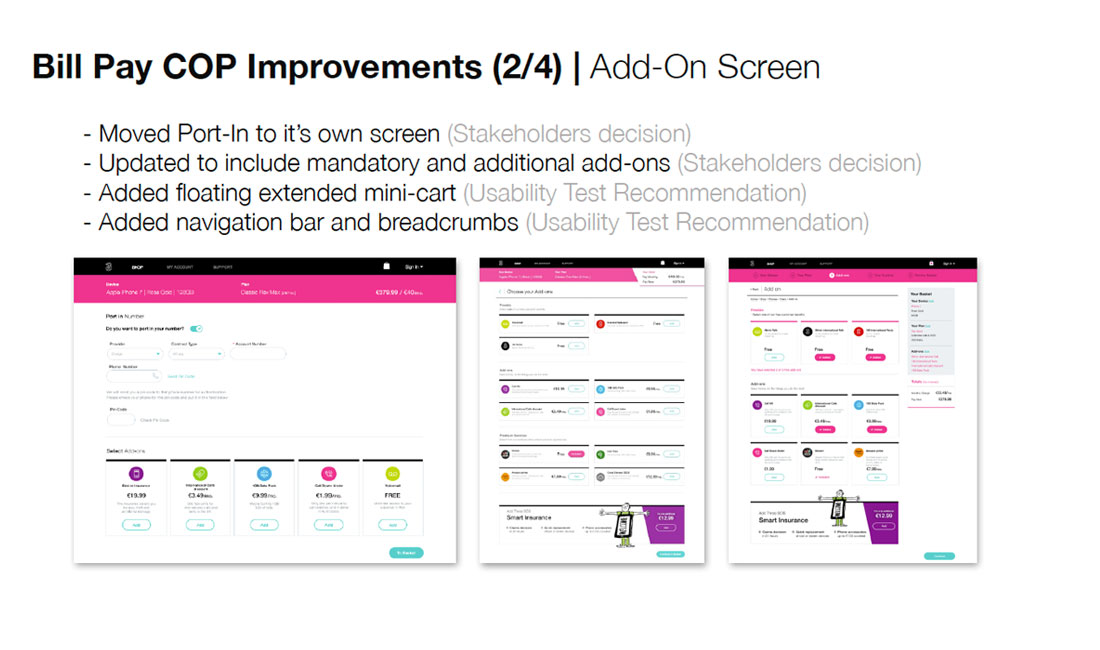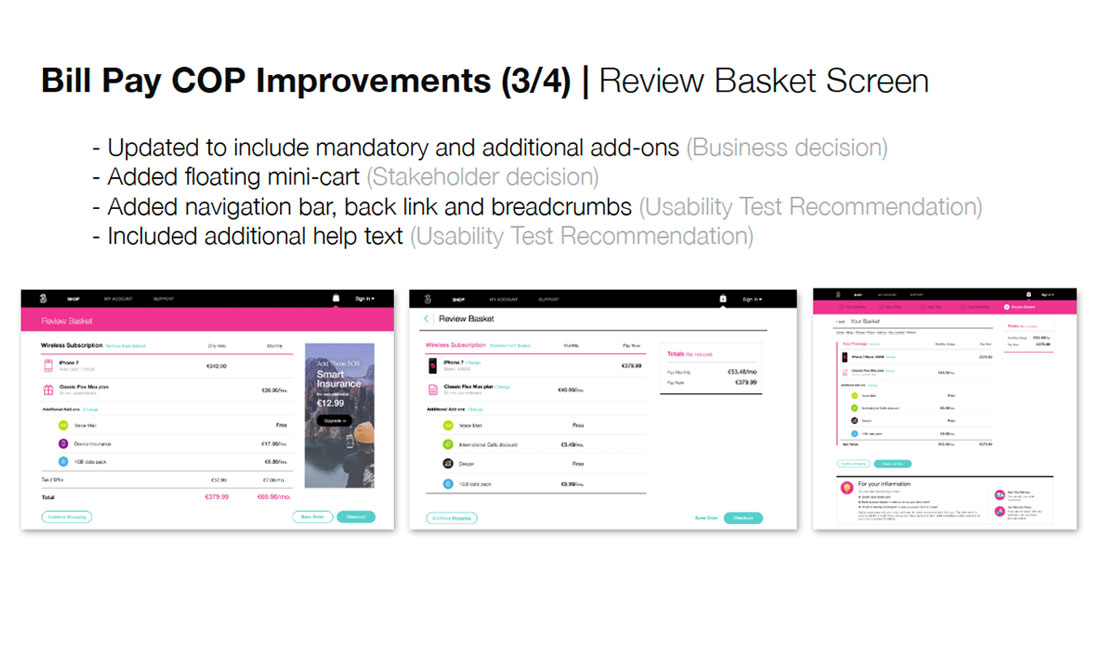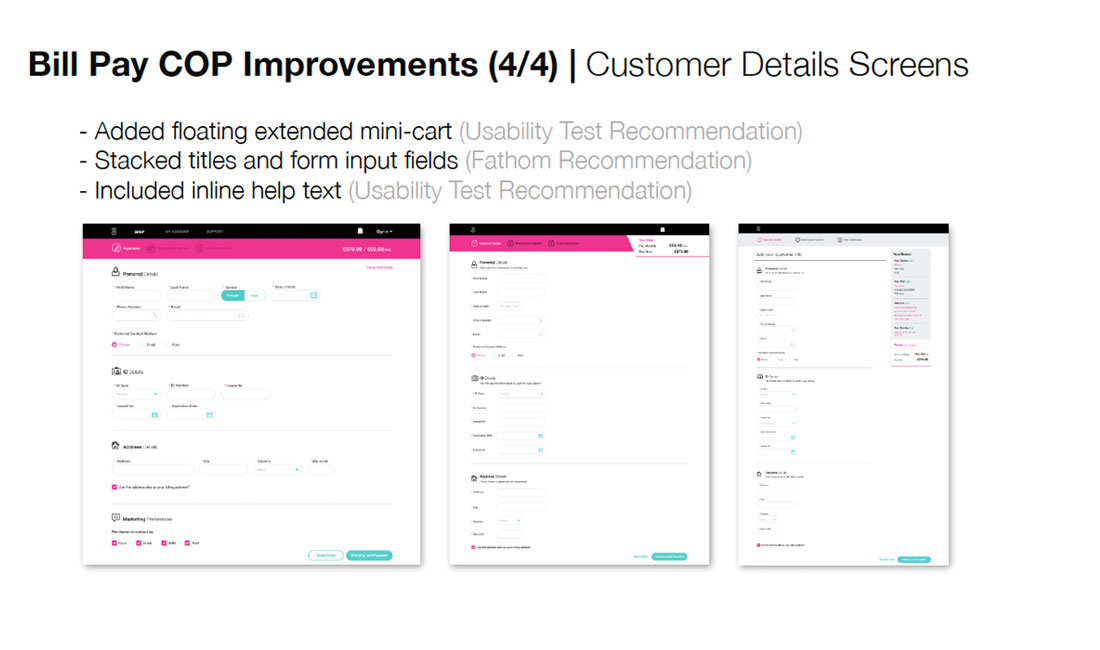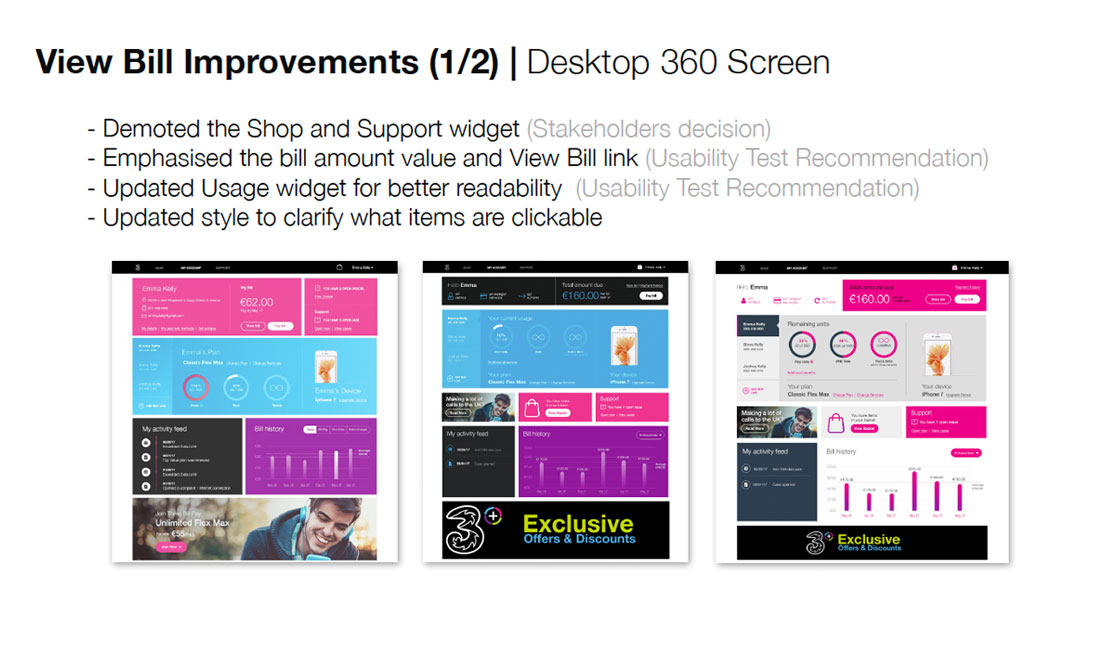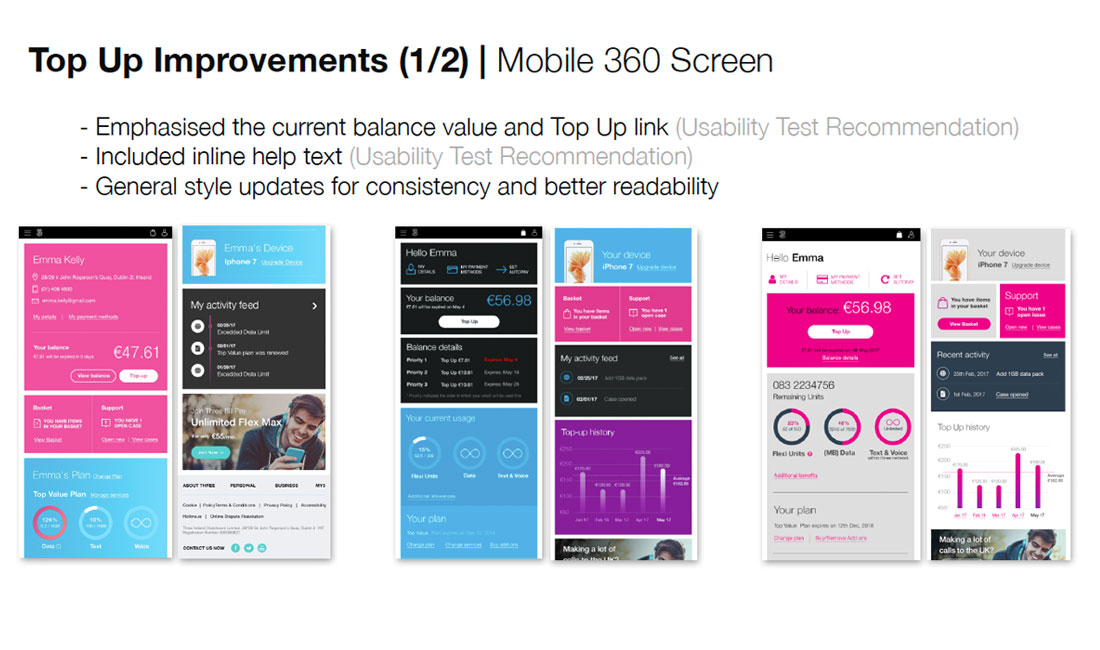 7. Implementation & Launch
After the testing stage ( end of 2019) the new Omni-channel system has been successfully launched ( march 2020) to FTCs ( First Time customers), finishing the implementation started at the end of 2019 with our existent users.
It is still early to know the full impact this project will have on the business, but the complete integration is already giving optimal results and will surely elevate sales on the Online channels.
Coinciding with COVID-19 and being Online Sales the only active Channel for three Ireland during the last month there has been a real increase on volume, (25% general increase on digital channels during COVID-19) with a 75% Increase in online sales over the weekend, after the FTC ( First Time Customer) implementation.
Video Presentation of 3Vision ( Omnichannel Experience)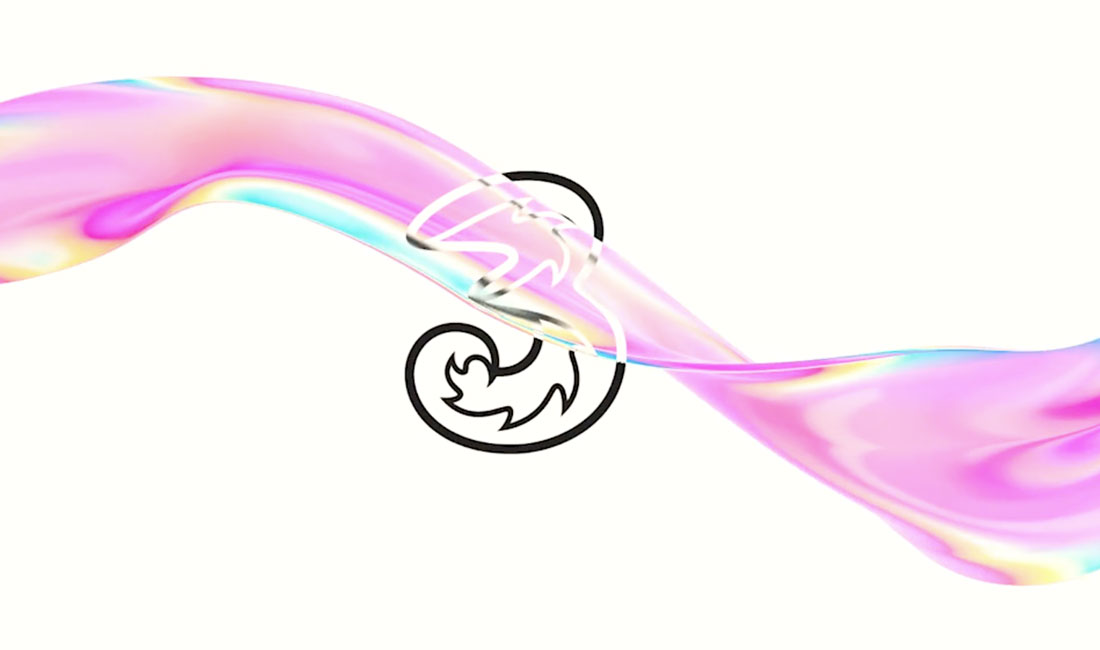 REFLECTION
My Thoughts
I must say this has been a very rewarding project. It has taken 2 years of my life, but it has helped me grow at so many levels.
From a Design Perspective it has been the biggest project I have led. From the initial stages, setting up the baselines, to the latest iterations, where we have managed to solve a lot of functional and visual problems. Dealing with a project with so many moving parts has for sure made me a better designer
From a Managerial perspective it has also been a great challenge: attending to countless workshops, detail sessions and reviews, dealing with external vendors, consultants, directorate and stakeholders. I have learned new skills which will surely have upgraded capacity to participate in big global technological projects.
Next Steps
Further Testing and Iteration on the current designs, as well as fixing all remaining defects.